In a world grappling with the looming threat of antimicrobial resistance (AMR), PAR Foundation remains dedicated to ensuring that antibiotics work now and in the future. On June 4, 2023, we announced the winners of the Grant Call for 2023. These exceptional winners and their groundbreaking projects offer hope and promise in the fight against AMR. "I firmly believe that the various projects we have selected will play a crucial role in promoting effective measures to mitigate the impact of Antimicrobial Resistance (AMR)." – expressed Cecilia Dahlström, Secretary-General at PAR Foundation
PAR Foundation's commitment to advancing understanding and combating AMR is evident in the two categories of grants awarded: Research Grants and Education Grants. Through research and educational initiatives, selected grantees are set to revolutionize our approach to antibiotic resistance and shape a healthier future.
Within the Research Grant category, we sought out projects that extend beyond traditional methods and embrace innovative approaches to preventing and managing bacterial infections and antibiotic resistance. In order to address the multifaceted nature of AMR head-on, our team recognizes the urgency of collaboration across various sectors, such as human and animal health, food production, the environment, research, and international development cooperation.
We understand the power of education in addressing AMR. Therefore, the Education Grant category focuses on engaging the next generation of health professionals, scientists, advocates, and researchers through impactful educational initiatives. By raising awareness and fostering understanding of antibiotic resistance, the new educational grantees and their initiatives play a vital role in driving change.
"We are thrilled to unveil the recipients of the Grant Call 2023 and extend our congratulations to our talented grantees," said Cecilia Dahlström. "Their research projects and educational initiatives hold immense promise in addressing antimicrobial resistance. We are confident that their contributions will drive meaningful change and pave the way for a healthier future."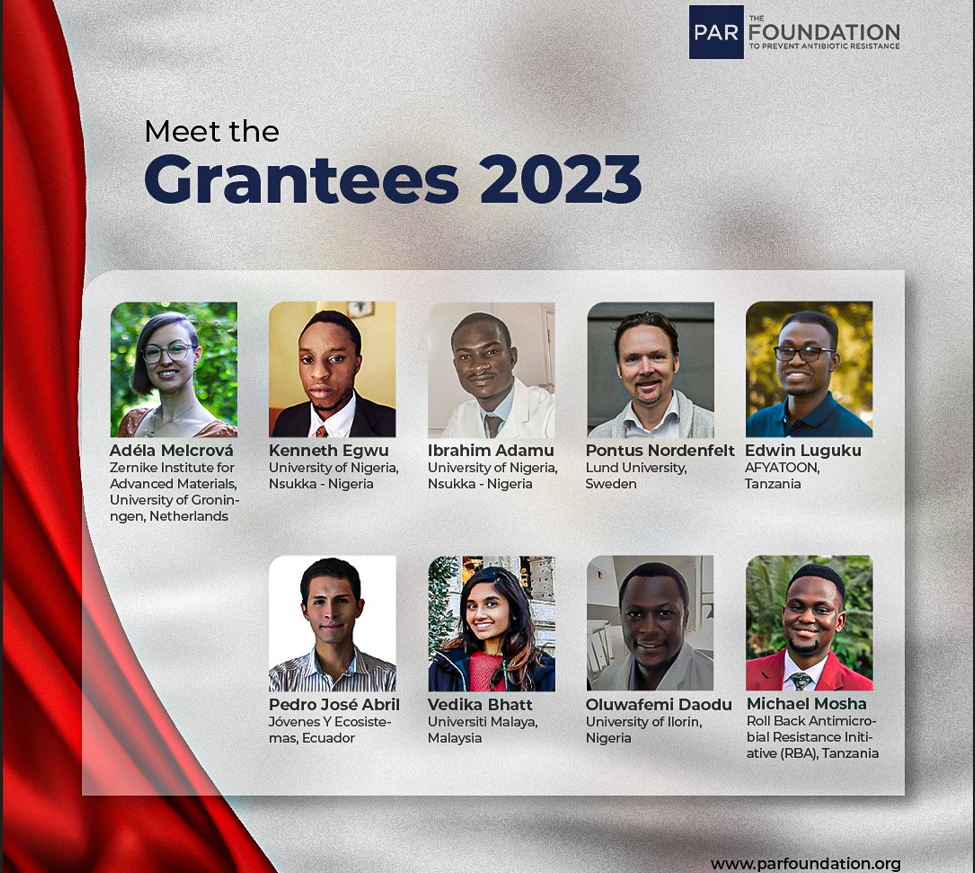 Among the distinguished grantees are Vedika Bhatt from Malaysia, whose educational initiatives aim to prevent antimicrobial resistance in her country, Pedro Abril Ortiz from Ecuador focusing on an AMR intervention training program, while Kenneth Egwu and Ibrahim Adamu from Nigeria will champion the establishment of AMR Clubs for Youth Champions through intervarsity training.
To celebrate the accomplishments of the grantees and provide a platform for them to share their research and initiatives, PAR Foundation hosted a captivating webinar on June 4, 2023. The virtual seminar showcased their innovative projects and allowed grantees to engage with key stakeholders in the field. The webinar was also an opportunity for media representatives and interested parties to gain valuable insights into PAR Foundation's groundbreaking research and educational initiatives. You can access the webinar on our Youtube channel:
The winning projects address specific challenges and barriers faced by various groups. Edwin Luguku from Tanzania, for instance, focuses on empowering journalists to become AMR communication frontliners in Tanzania. Oluwafemi Daodu from Nigeria aims to identify key indigenous causative factors of AMR and educate animal care stakeholders on stewardship. These projects, among others, have the potential to spark transformative change and pave the way for effective treatments.
Our commitment extends beyond grant funding. Through our evidence-informed approach, we promote best practices and encourage innovation, safeguarding antibiotic efficacy and preserving the future of healthcare. As we face the immense challenge of AMR, PAR Foundation stands as a beacon of hope. PAR Foundation believes we can overcome barriers, debunk misconceptions, and protect antibiotic efficacy for generations to come.
For more information about PAR Foundation and the impactful work we are doing to combat antibiotic resistance, please visit our website at https://parfoundation.org/. There, you can find comprehensive information about the grants, including eligibility criteria and the application process. Stay connected and up to date with the latest news and developments by following PAR Foundation on LinkedIn and Twitter.
The fight against antimicrobial resistance requires collective action, and each of us has a role to play. By supporting our work and staying informed about the groundbreaking research and educational initiatives we champion, we can contribute to a world where infectious diseases can be effectively treated.
Read more about our grantees here